Wet Fuel Won't Burn!
Learn about SPIEDR! We pioneered the design and manufacturing of Sprinkler Trailers and Sprinkler Kits. We are proud to provide products that defend homes and communities from the threat of wildfire. SPIEDR equips homeowners, fire departments, and communities with sprinkler equipment they can use to protect structures from the damage of wildfire. We care about protecting people from wildfire damage.
Our sprinkler trailers are self-contained enclosed units compromised of specialized equipment such as portable pumps, 3 types of low GPM sprinklers, bladders, hoses, and accessories. We also offer sprinkler kits that can be installed on homes, industry, and on property which allows people to be prepared should they ever face a wildfire emergency.
SPIEDR has benchmarked the innovation and technology of Structure Protection Trailers. We've utilized our 14-year history of operational structure protection experience supported by 20 years' experience in wildland firefighting and equipment development to create effective tools for those battling wildfire
We can proudly state that we've manufactured 98% of all purchased Structure Protection Trailers in Canada. We continue to be the "go to company" for communication within the wildfire service.
We are thrilled these fire agencies now inventory another useful resource in their tool box to mitigate WUI fires (Wildland Urban Interface). One SPIEDR sprinkler trailer can protect about 50 homes, while a traditional fire engine can only protect one home at a time inadvertently leaving firefighters in harms way!  At SPIEDR we are honored to develop products that continuously make a positive impact on wildland fire suppression efforts.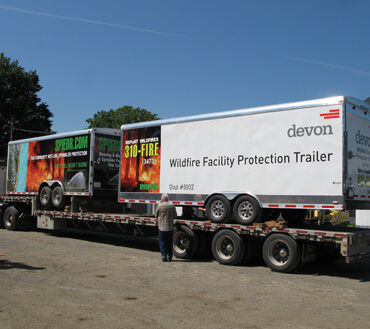 SPIEDR has been proudly designing and manufacturing Sprinkler Trailers and Kits since 2004. We are your trusted source for Structure Protection Trailers and Equipment.