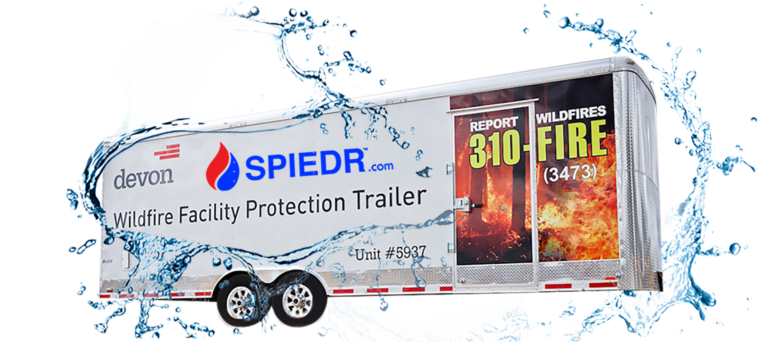 Our industry wildfire protection trailer can protect 50 average size homes with our Cloudburst™ technology. The industry wildfire protection trailer has also been manufactured to protect oil and gas industry facilities and infrastructure.
Our proven Cloudburst™ concept works just as it sounds! A higher humidity is achieved in the same manner as mother nature's falling rain.  Cloudburst™ pre-wets the rooftops and fuels surrounding structures in an affected area. This is known as Priority Zone 1 as per FireSmart (Canada) or FireWise (USA).
Once fuels are wet any wind driven ember transplant will be reduced or extinguished on contact. Airborne embers are proven to be a primary cause of wildfire structure loss. Cloudburst™ from an industry trailer will reduce structure-to-structure spread. Wet fuels prevent spot fires from growing and converging.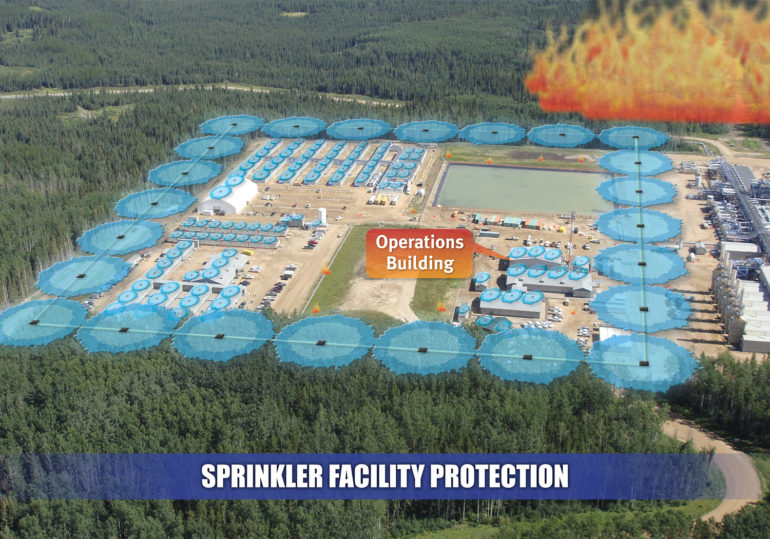 1 each 24' custom built enclosed trailer, heavy duty shelving & cabinets, optional command center
100 each large 1" brass impact sprinklers, full rotation, 110' diameter @ 50PSI flowing 8.2US GPM
4 each SPIEDR "Black Widow" mid-range centrifugal pumps (300US GPM / 200PSI)
The Industry Trailer allows you to protect your industry facilities or more than 50 homes with advanced Cloudburst technology.   This SPIEDR structure protection unit offers unparalleled industry protection from the threat of wildfire.
It is essential or oil and gas facilities to be prepared in the face of a possible wildland fire.