SPIEDR's Wildland Sprinkler Kits are an innovative method of protecting your home, business, or property!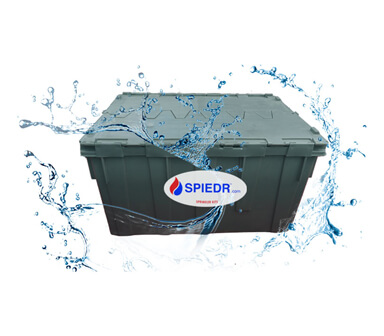 The Deluge 1 Sprinkler Kit will protect up to four homes.  It has a diameter coverage of more than 134 feet and is easy to install on your home, building, or property.  Keep everything safe by keeping everything wet! The Deluge 1 Sprinkler kit also ships in a durable container perfect for off season storage!
Our Wildland Sprinkler kits will reduce the risk of wildfire damage by keeping everything wet!
Easily install a Sprinkler Kit on your building or property.  Then during a wildfire threat turn the Sprinkler kit on to pre-wet surfaces. Wet fuels and surfaces will extinguish air born embers upon contact. By keeping everything wet and extinguishing embers, Sprinkler Kits reduce structure to structure spread and prevent spot fires from converging and growing!
If you live or work in the Wildland Urban Interface, a term for where wildland and forests meet, it's important to prepare yourself and your community for the possibility of wildfire.
SPIEDR sprinkler kits give you the opportunity to create a defensible barrier in the event of a wildfire. No matter your situation, SPIEDR has the right Sprinkler Kit for your needs.
Whether you need to protect industrial buildings, your entire community, or your own home and property, SPIEDR has a product for you. Don't leave anything up to chance. Be fire ready and shop SPIEDR sprinkler kits now!