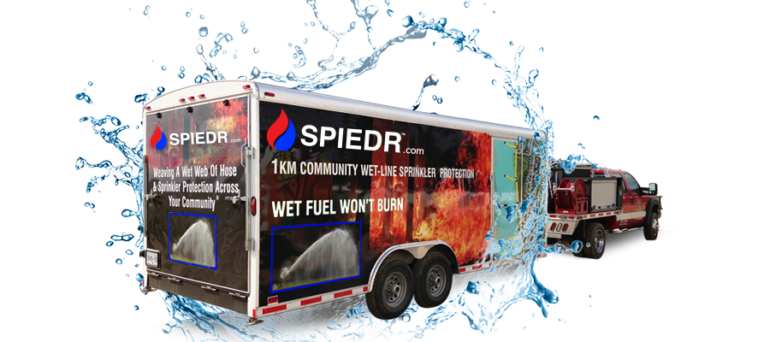 1 kilometer of continuous sprinkler protection!
The 1 KM WETLINE™ Trailer offers a unique advantage in wildland fire fighting. The SPIEDR WETLINE™ is a proven concept that offers 1 km (0.6 miles) of continuous sprinkler protection with a 280'-600' diameter Wet-Wall ™.
The fire front runs into this Wet-Wall™ which knocks down the flame intensity to a more manageable state. This reduces direct flame impingement radiant and convected heat to structures. The 1 KM WETLINE™ and the resulting Wet-Wall™ is a valuable element in containing wildland fire and protecting communities.
The 1 KM WETLINE™ trailer comes loaded with all of the essentials needed to create your Wet-Wall ™ and give you a kilometer of continuous sprinkler protection! It is truly an innovative product because you can also tow it to wherever it is needed for easy and effective deployment.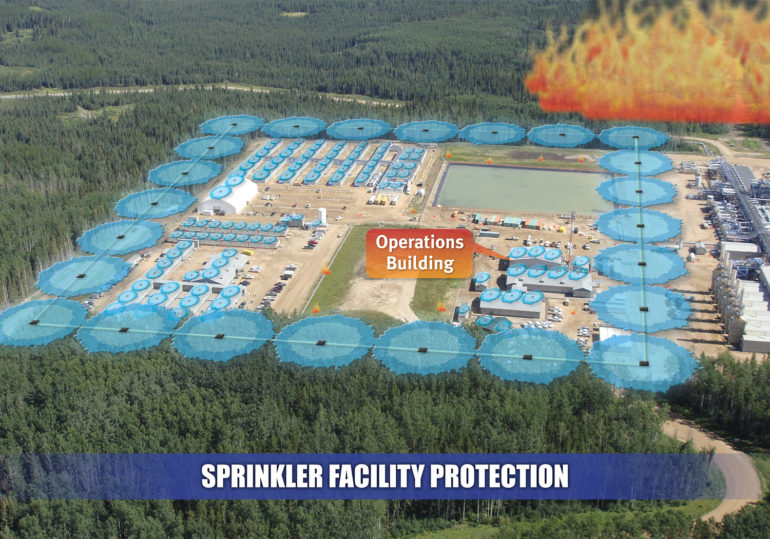 Advantages of the 1 kilometer WETLINE™
Pre-wetting ground fuels greatly increases humidity causing fire to burn around the wet fuels thus avoiding structures. Any airborne embers then settle upon wet surfaces, rather than the dry flammable fuels. This reduces structure to structure spread as the wet fuels extinguish airborne embers upon contact and prevents spot fires from converging and growing."
The 1 KM WETLINE™ trailer includes:
1 each 28' custom built enclosed trailer
1 each SPIEDR "TARANTULA" trailer mounted centrifugal pump (1500GPM +) enclosed within
16 each SPIEDR "DELUGE" sprinklers - 280' - 600' diameter coverage
16 each SPIEDR "BASE" tripod manifolds, telescoping 10'
33 each SPIEDR "WEB" mainline LDH hose, 4" - 7" (3300') w/ STORZ couplings
33 each SPIEDR water thief 2-1/2"
The 1km WETLINE™ trailer is a key component in community defense against approaching wildfire. The Wet-Wall of continuous sprinkler protection can have a huge impact on fire suppression efforts as it helps prevent fires from growing.