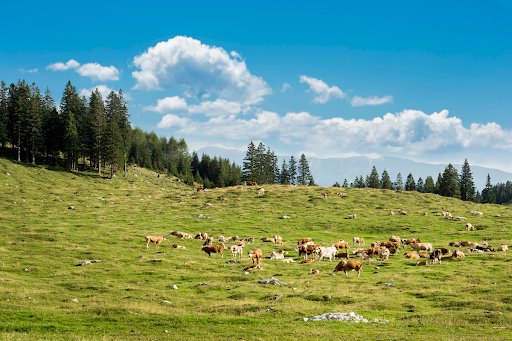 This year, a pilot project in British Columbia's Kootenay and Okanagan regions is exploring a new kind of fire prevention by having local cattle graze in targeted areas. That's right, local cows will be doing their part to keep their communities safer from the threat of wildfire this summer.
The project is led by BC's Cattlemen's Association and ranchers in Cranbrook, Kelowna, Summerland, and Peachland will be participating to help with the wildfire prevention effort.
How Does it Work?
Wildfires often stop moving forward when they reach pasture land. This is because grazing cows do a great job of keeping grass short and getting rid of wildfire fuel. When cattle graze on grass, it also encourages new, green growth which doesn't burn as easily and helps to slow the spread of wildfire.
This project aims to use that knowledge strategically by deploying cattle in areas at a high risk for wildfire damage. In 2019, the B.C government allotted $500,000 to the pilot project in order to launch it.
The cattle will be deployed in targeted areas for two to three weeks at a time, long enough to graze down the grass and leave the areas virtually free of wildfire fuel.
Creative Wildfire Management Solutions
With wildfire seasons becoming increasingly riskier in recent years, it is more important now than ever for communities to come up with creative solutions for managing wildfire and lowering the risk of damage to infrastructure. While targeted cattle grazing is by no means a fix-all solution, it has great potential to significantly slow the speed of wildfires spreading and make it easier to manage fires, along with other tried-and-true techniques such as selective tree harvesting and prescribed burns.
At SPIEDR, we pride ourselves on helping keep communities safe by providing wildland firefighting training, equipment rentals, and consulting.