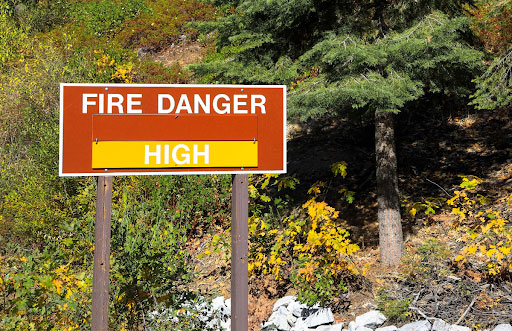 We often see what the different levels of fire danger are for our area, but many people don't really know the difference between "very high" or "extreme" fire danger levels. Here is a quick guide that outlines the different levels of fire risk and explains what each one means.
Low Fire Danger
Conditions are not particularly dry. Small fires may start easily from an intense heat source like lightning, but will not have enough fuel to rage out of control. Usually during low fire ratings, there are no bans or restrictions on campfires.
Moderate Fire Danger
The amount of fire starts is low overall, but grassland fires will burn rapidly and spread quickly if there is windy weather. Wood fires generally spread slowly to moderately in these conditions. Fires burning in moderate conditions are usually of medium intensity and are relatively easy to keep contained and under control.
High Fire Danger
Dry conditions with a lot of dead, dry plant life that acts as easy-to-ignite fuel make for a high fire danger level. In these conditions, unattended campfires or brush fires can very easily ignite and spread rapidly. Fires become serious more easily and are difficult to control due to the amount of fuel present. Fire fighters need to address fires while they are still small in order to maintain control.
Very High Fire Danger
Wildfires begin easily from natural and human-made causes and spread far quickly during very high fire danger levels. Plenty of dry fuel is present in these conditions and spot fires ignite easily. Wildfires become very intense and out of control quickly, making it difficult to fight these fires safely.
Extreme Fire Danger
The most dangerous fire risk level. During extreme fire danger conditions, all fires ignite easily and can increase in intensity and size very rapidly. Fire suppression efforts are often very unsafe except on the flanks of a fire or if the weather changes to become more favourable for firefighters.
While fire restrictions often only come into play during high to extreme fire danger ratings, it is essential to exercise caution during all of the different levels of fire risk. No matter the conditions, always be very careful carrying out any forest activities, never leave campfires unattended, and be sure that they are fully extinguished before leaving your site.
Spider provides wildland fire training services, consulting, and equipment rentals in order to help keep wildfires under control and prevent damage to residences and businesses threatened by fire.