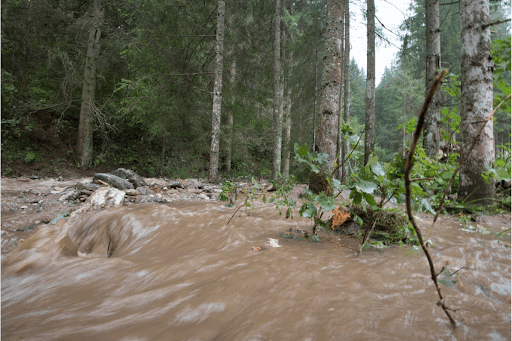 Historic Flooding in BC
The recent historic flooding in British Columbia that resulted in multiple fatalities, destruction of major highways, and the total flooding of the communities of both Abbotsford and Merritt, have left the province devastated. 
The flooding and mudslides this year feel to many like a shocking coincidence after a summer of intense wildfires. What are the odds of these two weather extremes both hitting the province so hard in the same year? Actually, though, increased flooding is a direct result of harsh wildfire seasons, and working on fire prevention in the coming year can help to reduce the risk of more flooding and mudslides next year.
Connection Between Wildfire and Flooding
One thing that happens after a major wildfire is that the ground where the fire occurred develops a hydrophobic (water-repellant) crust due to the dispersal of waxy compounds from burned and rotting vegetation. This crust means that the soil does not absorb water, so when rain hits the ground, it runs off and pools as opposed to being soaked up by the soil, resulting in more flooding than usual.
Wildfire also strips away vegetation and root systems, which give structural support and help prevent mudslides. When vegetation has been burned away and a sloped area is hit with a large amount of precipitation, it is more likely that a mudslide will occur.
Prevent Wildfires, Prevent Flooding
By working to prevent and reduce wildfires next season and in the coming years, we can reduce the risk of more devastating flooding like BC is experiencing in 2021. Do your part by following all fire restrictions and reporting wildfires. 
SPIEDR provides wildland firefighter training, consulting, and rental equipment. We are committed to doing everything we can to help keep people safe from wildfires and the various environmental phenomena that can be triggered by a harsh wildfire season.