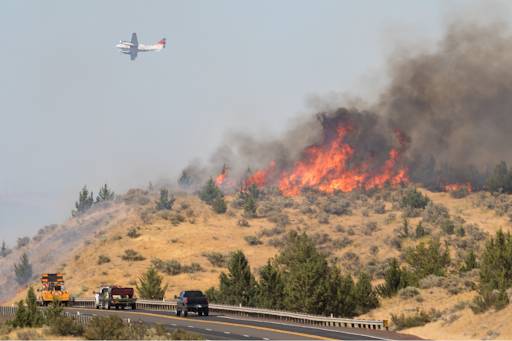 Wondering how exactly wildland firefighting is done? Firefighters rely on a lot of important equipment to get fires under control. Here are some of the most important pieces of wildland firefighting equipment and how it is used. 
Helicopters & Airplanes
Aircrafts are essential in fighting forest fires. Helicopters and airplanes are used to transport fire crews, equipment, water, and retardant to the site of the fire, enabling fire crews to fight fires quickly after they ignite even if they are in remote locations. Aircrafts can also be used to acquire infrared images on wildfires and to drop fire retardant directly onto the flames.
Sprinkler Systems
Sprinkler trailers, kits, and other sprinkler systems are used to moisten areas that contain a lot of potential fuel. Sprinklers can go a long way in preventing wildland fires from spreading and destroying homes, businesses, and other structures. When highly flammable materials such as wood, dry vegetation, and manmade structures are thoroughly moistened, they are very difficult to ignite. This means that having sprinkler systems set up in areas threatened by wildfire can mean the difference between homes being lost or not.
A Portable water pump is used by wildland firefighters to pump water from nearby natural sources, such as rivers and lakes. This water can then be used to fight the fire and to keep potential fuel wet to prevent the fire from spreading. Pumps used for wildland firefighting are portable and easy to transport from site to site in order to make it easier to reach wildfires in remote areas and to move to a different location as necessary.
SPIEDR is proud to provide homeowners, communities, and fire departments with the highest quality pumps and sprinkler systems for wildland firefighting. For more information, see our products.